Davon is main of originally Zega Sereies, Davon & Friends, Super Zega Fighters/Davon & Friends EX version of using the Tiger Fang Kung Fu base off Ninjutsu and his new fighting style Geki Jyuken Kenpo, have the Unbreakable of a Blue Wulf  his Counter Part Geki Red Fox Akeen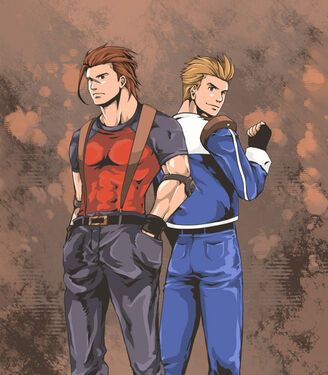 Profile
Full name
Davon Nathaniel Phillips (Jyuken)
Birthdate
10/7/94 Age: 84 years old (doesn't)
Birthplace
USA
Height
6.3
Weight
195
Blood type
All
Family/Relatives

Lolita (Mother), Akeen(Jyuken)  (Best Friend/Former Pupil),L.Davon(reincarnation/GrandSon),

Ethel (Aunt),Grandpa Ash (Grandpa), Pearleen(Grandma),Ash(Son),Brock(Son),CloneDavon(His Clone before his death), Jessenya(Childhood Friend), Desean(Childhood Friend), Shawn(Friends/Pupil), Antione(Friend/Pupil)

Likes
Red Headband given by Akeen(Zega), Half of the Crest of Bond(Proof of Davon & Akeen Friendship), Waza Changer
Dislikes
Bugs & Giving Up, Evil
Hobbies
Training All Day, Video Games, Japan,Eating, Traveling
Favorite food
Roman Noodles with Shrimp Beef, Lobster Meat + etc, White Rice and Milk Shakes
Forte in sports
None(Knows how to play some of them)
Fighting style
Geki Jyuken Kenpo,Ancient Martail  Arts, Ninjutsu, roots base of Karate of the Ansatsuken
Davon & Friends EX
It's been 10 years since the battle angaist Shadloo Deadly Alliance War, Davon was badly injured along side Akeen , about 5 years later, Davon and Akeen left on a journey, they retured 5 years later, they learned Jyuken mix with Ninjutsu , Davon & Akeen became very powerful, after then Davon was reunited with his Friends & Family, before leaving 5 years ago, he train his god nephew Zeke & CJ .
Super Zega Fighters
After years the 10 war Davon train in the art of Geki Jyuken, he & Akeen learn from the 7 Warrior of Jyuken, Davon mastered Exjyuken of the Bat, Elephant, Shark, Gazelle, Gorrilla, Pengiun, Pheonix, and Crow, after departing and saying there good buys they left home, afterward they ran into Nicole, Desean, & Jessenya, and warn them the that Darkloo is returning, even through Davon didn't care he can't his back on guard, Davon was gave Jessenya, Desean, Nicole a invitation to the Super Zega Fighting Tournament.
Bio
Beginning
Mid
Ending
True Ending
Super Zega Fighters: Calamity Trigger/Restriction Trigger
After the tournament Davon decided to train his new student Marcelus, he very cocky but 100 % devoted to his training.
Super Zega Fighters: Continue Shift
Super Zega Fighters: Continue Shift Extended
Super Zega Fighters: Chrono Trigger
Super Zega Fighters: Phantasma Trigger
Super Zega Fighters: ChronoPhantasma
Super Zega Fighters 2
Super ega Fighers 2: Rise of the Pillers
Super Zega Fighter 2: Avenger
Super Zega Fighters: Return Of Mizuchi
Zega Riders
Community content is available under
CC-BY-SA
unless otherwise noted.