Marcelus is a former agent of Darkloo to serve as a host or bodyguard for Zison-2, he betrayed Darkloo after meeting Davon kept giving him speeches, lectures, kindness to him, and to start from scrap from the beginning including his martial arts and fuse it into his new style of fighting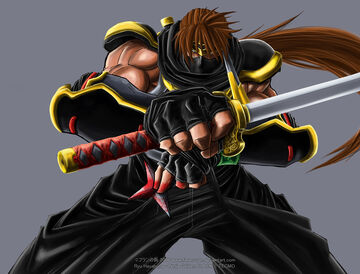 Profile

Full name
Marcelus Hanzo Thompson
Birthdate
N/A
Birthplace
USA
Height
N/A
Weight
N/A
Blood type
AB
Family/Relatives

Davon(Jyuken) (Sensei, Senpai, Friend), Tyreak (Senpai, Friend) Akeen (Friend, Senpai)

Likes
Ninja Headband, Chillen, Flirting
Dislikes
Jerks, Boring People
Hobbies
Tree Jumping, Flirting, Hanging Out
Favorite food
Pizza
Forte in sports
Ninjutsu & Basket Ball
Fighting style

Ninja Assassin's Arts + Battle Disc System, 

The Koga Ninja Arts & Ninja Arts of Galford (甲賀流+ガルフォード流忍術, Kōga-ryū purasu Garufōdo-ryū Ninjutsu),

Iga Ninpo Cho, Ansatsuken + Turtle Crane Kung-Fu
Super Zega Fighters
Edit
Marcelus is a agent of Darkloo, Girin gave him a ticket to enter the tournament Super Zega Fighting Tournament.
Beginning
Edit
Marcelus easily gotten pass the beginning of the rounds, he had a hard time with Kario since he didn't have his fighting data.
during the breaks in the Mid Semi, Marcelus was giving to speeches from about his fighting data, Marcelus thought about it and have second chances about Darkloo but kept following his order. During the last match he face off against Desean & L.Moe, he won and was injured Davon nurse to health with his Healing Ninpo Technique, after that fall asleep on his lettures but he was still listening when awake Davon was asleep next to him, Akeen told him that Davon was so worried about him he stand and watch him until he wakes up or at full health. Marcelus started his next match, he thought he was goner but he forehead stop the impact, he didn't realize it but Davon gave him his headband, after the match Marcelus didn't mention the headband. 
After defeating Davon Marcelus collect enough data to bring Zison back in his new form but Marcelus use the data gave it to Delta Blue & took Davon to safety he knew that would come after him and him as well, Marcelus stand in the shadows for the time. Became a Lone Rough Ninja.
True Ending
Edit
Marcelus was defeated by Davon, he ask Davon to take him as his student, Davon to the offer, and Marcelus quit Darkloo, but he became a undercover agent for Delta Blue, while training with Davon, he help Davon take down Darkloo base while in a transformation Jutsu form. He join Davon and Friends at a Party and until he began his training
Super Zega Fighters: Calamity Trigger/Restriction Trigger
Edit
Marcelus is a now a former agent of Darkloo, he betrayed Darkloo after meeting Davon kept giving him speeches, lectures, kindness to him, and to start from scrap from the beginning including his martial arts and fuse it into his new style of fighting,
Super Zega Fighters: Continue Shift
Edit
Super Zega Fighters: Continue Shift Extended
Edit
Super Zega Fighters: Chrono Trigger
Edit
Super Zega Fighters: Phantasma Trigger
Edit
Super Zega Fighters: ChronoPhantasma
Edit
Super Zega Fighters 2
Edit
Super ega Fighers 2: Rise of the Pillers
Edit
Super Zega Fighter 2: Avenger
Edit
Super Zega Fighters: Return Of Mizuchi
Edit
Community content is available under
CC-BY-SA
unless otherwise noted.